Services :




Department of Palliative Medicine was established in Oct 2010.
Being a State Cancer Center, we have un-interrupted supply of oral Morphine for Cancer patients. Interventional procedures for Pain Management and intravenous, subcutaneous or epidural morphine injection are given for difficult cases.

Clinical Activities :

Patients with pain and other symptoms like Nausea, Vomiting, Diarrhea, constipation, Anorexia, Fatigue, Depression, Insomnia, Anxiety are referred to us as Out-patients as well as from In-patients. We also provide supportive care to patients undergoing Radio and Chemotherapy and help them tolerate side effects.

We take care of terminally ill patients and counsel their relatives for upcoming event.


We do home visits in afternoon on daily basis for home bound patients and make them comfortable in their own environment.

Patient with maggots in wound, having difficult symptoms, and terminally stage of disease are admitted at Community Oncology Centre at Vasna.

Counseling is the most important part of Palliative Care. Counseling regarding disease, its stage, recurrence and prognosis is part of the care. Patients and their families are provided Social, Spiritual and Psychological support along with medicines.

Academic Activities :

(1) Department is recognized for eight weeks distance learning certificate course on "Essentials of Palliative Care" , recognized by Indian Association of Palliative Care since 2013. This course is conducted once in a year in November and December. Total 143 medical and paramedical staff completed this course successfully till date.
(2) Department is also recognized for "Six weeks hands on training on Palliative Care" in collaboration with Indo American Cancer Association and TIPS, India since 2014. Up till now total 35 Doctors and Nurses have successfully completed "hand on training" on Palliative Care.
(3) GCRI, Being an apex institute for providing Palliative Care, the department  is actively involved not only in "State level training of Doctors and Nursing staff on Palliative care" but also in preparing Policy and Syllabus and as a technical expert for training.
(4) Department also takes active participation in training of care givers.

Research Activities :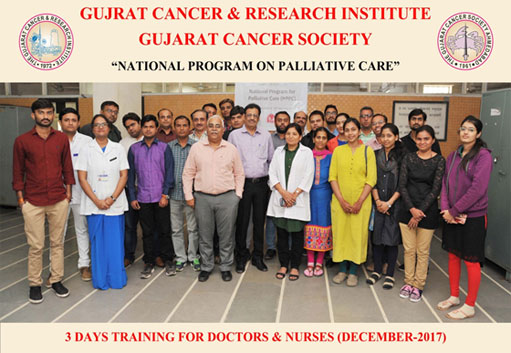 (1) Innovation: A new technique "Home based application of Sphenopalatine Ganglion Block for Head and Neck Cancer pain Management" is developed  and published in Indian Journal of Palliative Care.
(2) A  project " Radiofrequency ablation of Sphenopalatine Block for Head & Neck Cancer Pain Management"  was supported by Gujarat Cancer Society, in July 2013. The project was completed and published in Indian Journal of Pain.
(3) Currently department is conducting a study on "Impact of early palliative care on Quality of life of patients with advance stage of carcinoma Cervix".
A dedicated computer system with software for patient records is available for record keeping. Such records will go a long way in providing assistance to Cancer Registry as well.