Services :





The Department of Pathology has been upgraded with various equipments for Clinical Pathological Analysis Report work. It includes various services like Histopathology, Cytology, Haematology, Biochemistry, Blood Bank, Paediatric Oncology Haematology, Vasna Hospice Haematology, Immunohistochemistry and Microbiology.
Pathology department is the heart of our Hospital; central to any cancer management is tissue diagnosis. Metabolic pro􀀩ile and Haematological alteration in a cancer patient plays a pivotal role in overall outcome. The department is well equipped with highly sophisticated microscopes attached with camera and computer for teaching and record purposes. It provides services of Histopathological diagnosis, frozen section diagnosis, haematological tests, biochemical tests etc. The department has an internet facility for tele-pathology.

Clinical Services :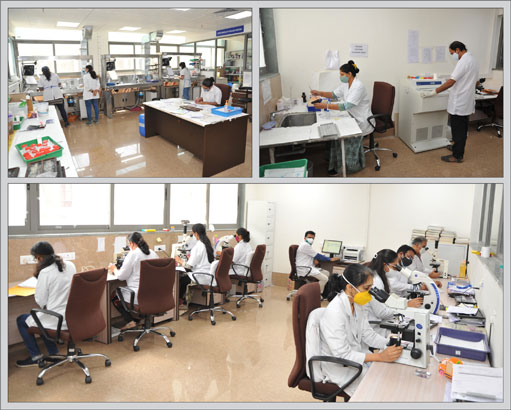 The department conducts blood collections for special investigations at Out-door Patients' Department (OPD) at the Hospital especially for early detection of pre-invasive and invasive malignancy. Pap's Smears Tests and Serological Tests are performed free of charge and biopsies are taken at nominal charge. The Department of Pathology also examines and gives expert opinion of the outside Biopsies and Specimens and also performs Immunohistochemistry tests thereon. The outdoor Blood Donation Camps are conducted at various places in Gujarat. The department also actively participates in GCRI Academic Meetings.

Academic Services :
The department imparts Practical/Theory Training to Post-graduate students /Doctors for MD Degree, DCP and observers come from various local hospitals and from other States as well as to students for Medical Laboratory Techniques Course. Maintenance of patient's record and statistical data analysis is done. Click Here for Technical Staff of Pathology Department